Two international seminars December 9 and 10, 2011.
As a part of the upcoming volume of Kvinde, Køn & Forskning, we are proud to present two seminars about Trans Studies in Scandinavia. The first seminar will focus on Trans Studies in academia presenting Sysan Stryker, one of the founders of Trans Studies, as well as three scholars working with Trans Studies in and about Scandinavia. The second seminar will focus on the politics of Trans Studies connecting academics, activist and policy makers.
Both seminars is open for all and no registration is needed.
Seminar 1: Scandinavian Trans* Studies
Friday December 9, 2011. 12:00 - 18:00 University of Copenhagen, Njalsgade 120, buiding 23, room 23.0.49. For more information, email Michael Nebeling Petersen.
12:00 - 13:30: Transgender Studies 2.0: New Directions in the Field. Susan Stryker, Indiana University, USA.
13:45 - 14:25: Queer and Trans:Revolutionary Rhetoric and Social Change. Jan Wickman, Åbo Akademi, Finland.
14:25 - 15:05: Irrevocable (Trans)Formations? Religion, Medicine and Academia Intersecting. Sabine Meyer, Humboldt Universität Berlin. Germany.
15:30 - 16:10: Man Enough? Male Embodiment and Narratives of Masculinity in Trans Video Blogs on YouTube. Tobias Raun, Roskilde Universitet, Denmark.
16:10 - 17:00: Panel discussion between the four lecturers.
17:00 - 18:00: Reception.
Seminar 2: Trans* Politics: Rights, Activism, and Studies
Saturday December 10, 2011. 12:00 - 15:00. The Danish Institute for Human Rights, Wilders Plads 8K, 1401 København K. For more information, email Rasmus Præstmann Hansen.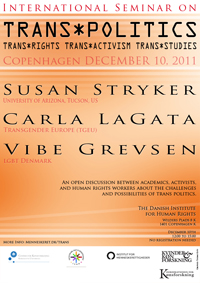 An open discussion between academics, activists, and human rights workers about the challenges and possibilities of trans* politics.
12:00-12:40: Susan Stryker on the connections and movements between academia and activism.
12:40-13:15: Carla LaGata (TGEU and Transrespect versus Transphobia Worldwide) on the challenges and new possibilities of trans politics in Europe.
13:25-14:05: Vibe Grevsen (LGBT Danmark) on the status of trans politics in Denmark.
14:05-15:00: Discussion and comments.